Fiber Array
² Features
ØFrom Single Channel to 64Channels
ØHigh Precise Fiber Core-to-Core Accuracy
ØHigh Precise Polishing Angle
ØLow Insertion Loss and High Reliability
ØTelcordia GR-1209 & GR-1221-CORE Compliant
ØRoHS Compliant
² Specifications:
Number of Channels

1 ch

2 ch

4 ch

8 ch

16 ch

32 ch

64 ch

Material

Pyrex or Quartz or Silicon

Pitch(um)

127 or 250(0.5)

Polish Angle(°)

8 (+/- 0.3)

Insertion Loss(dB)

0.15

Uniformity(dB)

0.1

PDL(dB)

0.05

Return Loss(dB)

> 55

Channel Spacing(um)

250

250

250

127

127

127

127

Package(mm)

8x2.5x2.5

9.5x2.5x2.5

9.5x2.5x2.5

9.5x2.5x2.5

11.5x3.0x2.5

11.5x5.7x2.5

12x9.8x2.5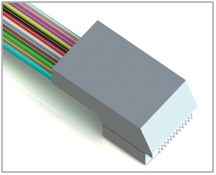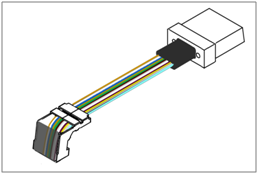 MT/MPO-90°FA
※ CurrentlyFSG hasour own polishing technology on FA with the angleof 8°/42.5°/45°degree.
※ Independent research and developmentmanufacturer.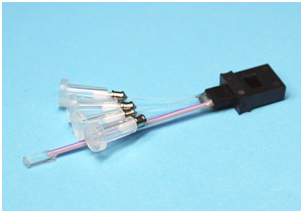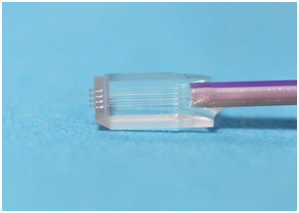 Fiber Array Assembly with MPO Connector
ProductDescription:
Fiber array is assembled with MPO, used fornext generation pluggable modules which requires ultra-small form factor
inthe system design. The product contains fiber array at one end of fiber ribbonand MPO connector on the other end.
The fiber array and MPO can be2/4/8/16/32/64 channels. The fiber length is 15mm. (variable to customerrequirement).
Applications:
This product can be used inside of anoptical device package as light output /input which has MPO connector to system
board instead of using long fiber andrubber boots outside the device. Therefore it can reduce the package size andfiber
routing space.
RelatedProducts: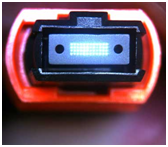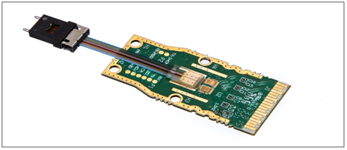 Multi-Channel PM Fiber Array with HermeticFeedthrough
For highly reliable optical modules, We provides multi-channel PM fiber array withhigh hermeticity. Kohoku developed
PM fiber feedthroughtechnology by utilising long experience in hermetic sealing.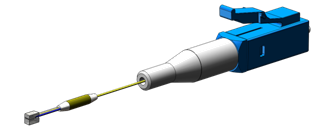 Specifications
Hermeticity <1x10-9atm cc/sec
PER > 20dB
Insertion Loss ≤ 0.3dB
Return Loss ≥50dB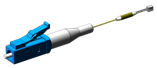 Connector SC,FC, MU, etc.
*Other specs would be available uponrequest